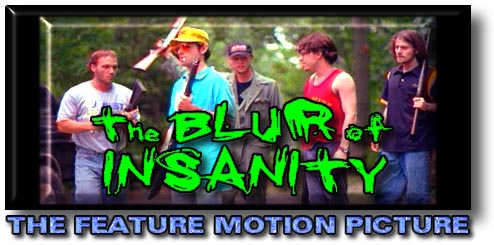 THE MOVIE
The Blur of Insanity is a black-comedy about college and the reality of living in an bizarre world of smoking dope, dropping acid, smoking cigarettes and doing everything possible to avoid responsibility of any kind. The main characters are five college males in their sophomore year who get in trouble and get kicked off campus. They move into a house deep in the woods and attempt to stay in college simply so that they don't have to go home. It is actually a more honest look at being in college, being almost twenty - and not caring about anything that a normal adult would.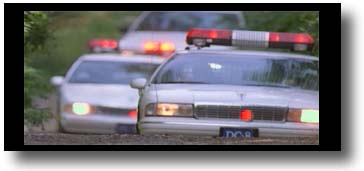 THE NEXUS OF INSANITY
The movie - a 35mm feature- was written and directed by John Hussar, a New York film director. It is based on a series of events that happened to Mr. Hussar when he was a student at an upstate New York College. "It was a sick time, we used to have parties where we'd burn cars, pianos, anything big that found its way to the house. People used to come from campus just to watch us. Like we were some horrible carnival sideshow. No one knew what we might do - or if we might kill somebody. I think people expected that we'd kill ourselves eventually - and they wanted to be there to see it."
This is also the first feature film to be produced by Holly Faison whose past work has been in Television Producing. Ms. Faison remains shocked by the whole situation - including the website. "I have no comment" says Ms. Faison.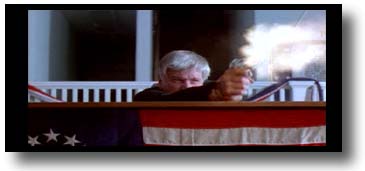 ---
SYNOPSIS
"The Blur of Insanity" begins at the start of the group's Sophomore year when the five derelicts have just arrived back at college. Immediately they decide to push a massive candy machine off the roof of their dorm. It seems to them, at the time, a perfectly reasonable and normal act.
Since they do not consider that they have done anything wrong, they are a bit surprised when they are immediately caught by campus police - and the next day summarily kicked off campus by a local Judge. The Judge offers the Group two choices after they are convicted, one; prove they deserve to be at school by getting better grades ­ or two; jail.
Back at school the Group makes a few half hearted attempts to improve, which are not successful (they feel satisfied that they've already learned everything they need to know about the world - and there is no need to learn anything else!).
Naively optimistic that they will figure something out eventually, they get back to doing what they had come to college to do in the first place - nothing!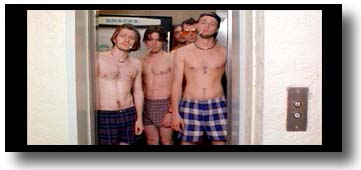 At this point the film descends into an extended acid trip at their farmhouse where they become entrenched in a deranged paranoia!
Eventually they come down, settling back into a strong yet comfortable apathy.
But this attitude doesn't last long when they become faced with the reality of actually getting kicked completely out of college and the prospect of moving home and getting real jobs. The thought of having to become fully adult and therefore fully 'responsible' for themselves is devastating. Given this situation they find all the motivation necessary to remain in school. But they find success has it's own dangers. And success might be worse than failure - something they are at least expert at!
TO CONTACT US ABOUT THE FILM CLICK HERE (blurstaff@blurofinsanity.com)

---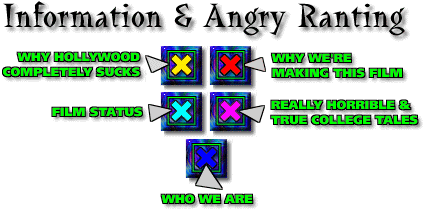 | WHY HOLLYWOOD SUCKS | WHY WE'RE MAKING THIS FILM |
| FILM STATUS | HORRIBLE & TRUE COLLEGE TALES |
| WHO WE ARE |

---