We're putting the photo's in slowly. (because we're slow...)

---
???????
Executive Producer
Vaughn M. Dunn
You probably will never see a photo here unless we make alot of money.
He is too responsible and respected a human being to be identified with the likes of us!
---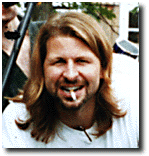 Writer/Director
John J. (for "Just gotta get the shots") Hussar
The mastermind behind all the Insanity. Eternally optimistic - to a fault.
With three hurricanes bearing down on us Director Hussar never fails to put
a positive spin on the situation. After 21 hours of non-stop shooting in muck ,
he will smile and say "See, it's really not so bad."

---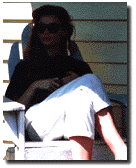 Producer
Holly Faison
Ah, the mystery! Who is this woman? And why is she protecting her identity?
Holly has a special, personal motto. Needless to say, it is scary.
She is also Scottish in origin. Another thing to be afraid of.

---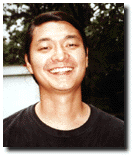 Director of Photography
David Park
We like David, but we really dislike everyone who sat with him on the "Dolly of Doom."

---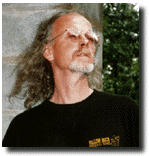 Gaffer
Frank Stubblefield
An amazing gaffer and human being... but don't piss him off. Really.

---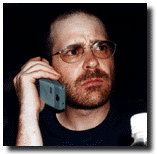 Production Manager
Peter "Moshe" Wasserman
The best location thief in the buisness. And he speaks French,
very handy when trying to dupe the local authorities.
---
#1 BEFORE ************ #2 AFTER




PICTURE ONE shows Hakim before dealing with "The Dolly of Doom"
PICTURE TWO shows the toxic after-effects of Vegans!
Assistant Director
Hakim Quest
Hakim "Bill" Quest put up with so much shit from
the "Dolly of Doom" he deserves a medal!
---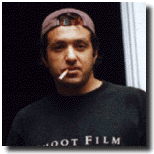 Sound Operator
Fred Edwards
An excellent Sound Man. Pleasant. Responsible. Human.
And he hasn't hounded us for money. Fred is great.
---

(again, we have no current photo's - in this shot he's 21 years old)
Scott V. Smith
Associate Producer
Was lying asleep at two a.m. at the "Farmhouse" when a stray dog came through the
front door (which was accidentally left open) and began licking his feet. He thought
it was a wild boar so he lay there very, very still. The dog eventually left.
Scott has been emotionally damaged for life. E-MAIL HIM! Torture him!

---


Art Director
Michele Ferraiolo
Abused by the D.P. Endlessly harassed by people screaming "Michele!!" all day long.
Did we mention all the sex she had?
---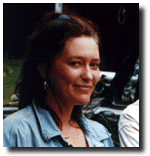 Suzanna Schmidt
Script Supervision
Suzanna was tireless in battling over continuity problems with the lazy,
useless "Dolly of Doom." Another person who should get a medal.
---
Costume Designer
Brenna McCarthy
Handled the responsibility incredibly well. Carried bags of clothes all over creation!
She also writes a hell of a "Thank you " note!
---