So you want to go somewhere worthwhile for Spring Break? Don't want to go home and hide from Mom and Dad? Or hide from Mom and her new boyfriend - Rico, or Dad and his twenty year old secretary who thinks she is your new mom? Do you have tickets and reservations and plans and all items that that someone responsible would have already taken care of? No, of course not. Well, we're here for those of you who are too lazy (a trait we respect!) to look for yourself. Here's: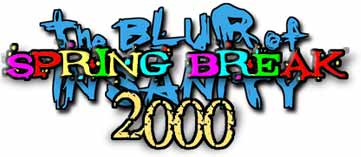 PRIMARY DESTINATION: CANCUN
We heard from our inside sources that MTV Spring Break will most likely be in Cancun this year. That doesn't really mean a hell of lot to us (actually we hate MTV and think it is geared to pre-teen girl audience), but we feel that if it is possible to ruin their telecast by sending a group of drunk/tripping college derelicts into their midst, inspired by The Blur of Insanity website, and if those derelicts destroy the MTV broadcast, it is well worth it! Just don't get caught and end up in Mexican Prison (NOT a good place to be!)
MTV Production Hotel:
Sheraton Cancun Resort & Towers
Paseo Kukulkan KM
12.5 Apartado Postal PO BOX 834,77500
Cancun, Quintana Roo, Mexico
PH# 011-529-883-1988
FAX# 011-529-885-0204
Tape Dates: March 15-18
WE EXPECT YOU TO TORTURE MTV about THE BLUR OF INSANITY!
AT LEAST... WE HOPE YOU WILL.

Cancun is divided up into four districts; Cancun Island, Cancun City, Isla Mujeres and Punta Cancun. When you're in Cancun, the place you really want to be is Cancun Island or Punta Cancun. This is where all the hot night spots are. Unfortunately, but not surprisingly, this is also where all the expensive hotels are. If you really want to cough up the dough, you can stay at a hotel here, but if you want to save a few bucks, you can stay in one of the surrounding areas, such as Isla Mujeres. The hotels there are about $20 a night, because they're about 40 minutes away from the city by ferry. That kinda sucks, but if you're on a serious travel budget, that's not too bad. The hotels in Cancun Island are more like $100 bucks a night. As for the rest of the city, hotels are between $100 and $1000 (ouch) a night.
Air fare is going to be kind of expensive, although the rooms are cheaper in Mexico than they are in the US. We found flights for around $700 round trip from Boston. If you can somehow get to Miami, flights from there are about half as much (about $350). They're about $400 from LAX (Los Angeles). By the way, we suggest you avoid Alaskan Air on this trip! We found our prices on a site called Farefinders. There is also the option of buying a whole package. Some of them are really reasonable, but you want to try to do a little research so you don't get ripped off. One company that we hear good things about is USA Spring Break.
Here's an overall MAP of CANCUN: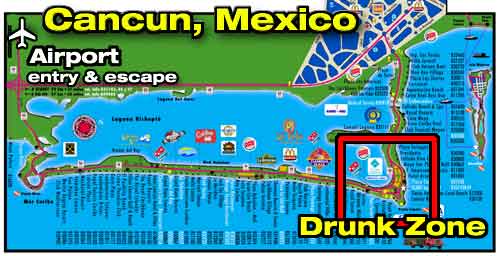 CLICK HERE FOR A LARGER PICTURE OF THE DRUNK ZONE! Where the most trouble is!
Here's our list of good, cheap HOTELS
Here's our list of CLUBS and BARS to hit in Cancun.
SPECIAL NOTE: Look for some of the Blur Staff to be in Cancun on the week of March 11-19.
---
BACKUP DESTINATION: PANAMA CITY BEACH, Florida
Billing itself as "The World's #1 Spring Break location," Panama City Beach, FL is pretty cool. With the country's largest night club, Club La Vela, you probably won't be left without something/someone to do. Aside from the nightclub of Wal-Mart proportions, there's a shitload of beach (about 27 mi) to lounge around on and get trashed. Speaking of getting trashed, this destination is in the United States, so it's 21+.for the drinking age. Should you have and identity crisis, we remind you to check out our 'MOVIE PROPS' page.
Where to stay? Good question! We found a motel listed named "Trips." We figured that you can't go wrong with that. Lodging for the spring break season in PCB runs about $50 and up. The best place to be would be on or near Front Beach Road.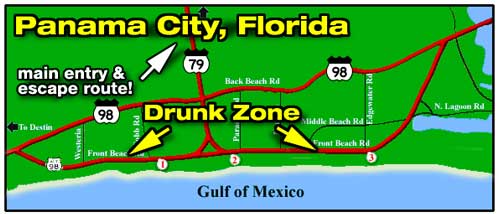 THE DRUNK ZONE IS PRETTY MUCH UP AND DOWN THE WHOLE STRIP!
Also, American Prison's are just slightly less horrible than their Mexican counterparts!
Here's a list of places to crash: HOTELS
Here's a list of clubs to check out: CLUBS
SUMMARY:
Of course their are other spots such as Daytona Beach, the Bahamas, Palm Springs, and other assorted Carribean Islands, but overall we think Cancun, with it's lax drinking age and easy access to narcotics is the best overall spot. And please, if you go to Cancun, don't forget to ruin any, and all MTV inspired events and broadcasts! We are counting on you!