NEWLY UPDATE JULY 2001!


The truth, at last, acquired from a University study!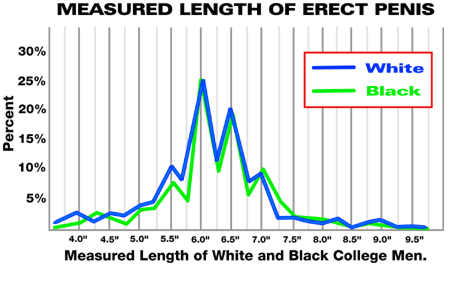 What does this data tell us? Well, it appears there isn't a hell-of-a-lot of difference.

NEW and IMPROVED Penis Length info:
Average white tool: 6.2 inches long and 3.7 inches around. The average black schlong: 6.3 inches X 3.8 inches. Let's see, that's a 0.1 inch difference. So who's been hyping this one?? Another bit of bullshit exposed by the scientists at The Blur of Insanity!

Largest Penis Recorded!
(yes, on a human, not a horse):
13.5 inches long and 6.25 inches around (documented in the early 1900's by Dr. Robert L. Dickinson). That's some serious meat. In case that makes you feel inadequate, there have been cases reported of Micropenises (less than 1 cm in length).

The average asian penis is 5.5 inches in length.
Although the average asian penis is a little short, there are other things to consider. The taoist art of Chi Kung involves lifting weights with your penis. The record for this was set in 1995 by a Hong Kong master named Mo Ka Wang, who lifted over 250 lbs. two feet off the floor WITH HIS WILLY. We're not sure exactly how this was accomplished, but we're pretty sure that Miss Blur of Insanity was NOT involved.

Dr. JĀrn Ege Siana, a Danish plastic surgeon holds the record for greatest penis extension. He took a 48 year old's 1.8 inch wang and added 5.7 inches. Of course, it was probably the width of a #2 pencil when he was done, but what can you do?

AND HERE'S WHAT YOU ALL WANT TO KNOW:
AVERAGE TIME TO ORGASM:
Well guys, the results are in, and we are quick. 75% of all males reach orgasm within 2 minutes of penetration. Girls- That means that 3/4 of the male world will leave you unsatisfied and frustrated. Get used to it.