THE NEW, ACTUALLY WINNABLE


SHAMELESS PROMOTION? ABSOLUTELY!
THE CONTEST IS RATHER SIMPLE, ACTUALLY.
#1 PUT THE WORDS "THE BLUR OF INSANITY, www.blurofinsaity.com" ON A LARGE (HUGE?) SIGN IN SOME PROMINENT PUBLIC PLACE. (it should look something like the image below) *important: please don't get yourselves killed or arrested doing it ! We don't need the lawsuits!)

#2 EXTRA CREDIT PRIZE - IF THE SIGN IS IN AN EXCEPTIONAL SPOT (ie. A VERY VISIBLE BUILDING or FAMOUS LOCATION) YOU WILL WIN A SECOND HAT AND A T-SHIRT, STICKERS, ETC. (or maybe we'll send you Josh if it is a really great place).

#3 TAKE A PHOTO OF IT (no photoshop fakes accepted -we work in photoshop and other image editing programs so we can tell immediately if it's a fake!).

#4 SEND US THE PHOTO - AND DON'T FORGET TO INCLUDE YOUR ADDRESS, E-MAIL (and any additional contact info) TO:
Attn: SHAMELESS PROMOTION
Blur Productions, Inc.
P.O. Box 778
Armonk, New York 10504-0778
#5 WE SEND YOU A HAT - The only reason we wouldn't send one is if your idea really blows. (ie. If you hang it where no one can see it, that barely helps our shameless self promotion. Be clever!) Frankly we have a lot of hats left, so you'd really have to be pretty pathetic not to win one! We are whores for publicity!
Disclaimer: We are not recommending you do anything illegal or dangerous. We are not liable for accidents or stupidity. We are not forcing anyone to do this. We have a enough things to worry about without being tortured by evil lawyers and other professional annoyers!!
WINNERS SO FAR!
#1 STEVE of TEXAS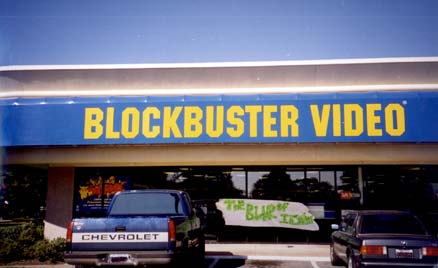 #2 TIM of OREGON