NOT THAT WE ARE POLITICALLY CORRECT (we aren't)...
Sometimes we have produced things of questionable taste.
This area is dedicated to our mistakes in judgement
and our generally 'troubled' sense of humor.
(MORE TO COME!)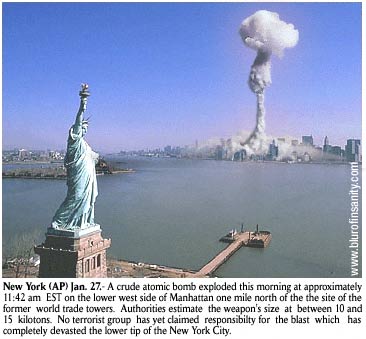 ITEM No#1 - We put this on the main page about a month ago with no explanation. About an hour later the phone started ringing with complaints. We thought about it for another hour and then yanked it.
It was an error in judgement, but it really looks good (and took a while to make!) The bad taste here (in case you couldn't guess) is that this may, at any time, become a reality.
Points of interest: The light and shadowing of the mushroom cloud matches the statue of liberty and other buildings, plus the nicely crafted news story!