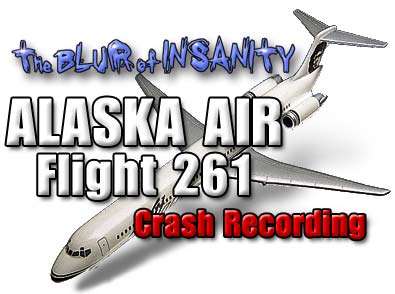 ***BLUR of INSANITY EXCLUSIVE***
Recording of the Control Tower tape of Alaska Air 261.
If you are already afraid of flying you may not want to hear this.
Below is a visual of flight 261's final flight path.
If you remember the story, the jet's elevator controller failed in flight.
It was a flaw in the MD-80's design which has since been fixed.



LISTEN TO THE TAPE
This file is really disturbing and even we have a hard time listening to it.
(note: don't be angry at us... we didn't build the airplane!)
If you don't have Quicktime yet you can get it from the links below.
You need to download quicktime because RealPlayer is bad.

.

The Crash Site.